Follow us on Twitter @uptonjfc
Upton JFC is delighted to be an FA SSE Wildcats Girls' Football Centre.
Sessions for girls aged 5-11 are running until the 28th July on Saturday mornings 10-11am.
Please click the logo to contact us, call 07748 185423 or email susanterry124@gmail.com for more information. #SSEWildcats.
Upton JFC (Chester) is a non-profit, charitable, grass roots football club that has doubled in size, to over 450 players, over the past three years. We are proud to be one of only 30 FA Community Clubs in Cheshire, providing an inclusive environment for girls and boys from ages 5 to 18 years; we also have thriving Footie 4 Females, Open Age and Vet's teams.
Community Club status is given to reward and encourage best practice in football at grassroots level and this is a reflection of the high standards of coaching and governance throughout Upton JFC.
In May 2017 the Club was proud to be awarded the Cheshire FA Community Club of the Year Award.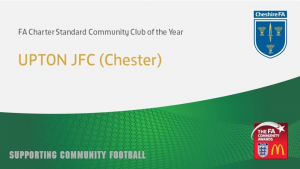 2016/17 Award Winners
Exec
ut
ive 
C
ommittee
| | | |
| --- | --- | --- |
| Chairperson | Ken Berry |   |
| Vice Chairperson | Andy Murphy |   |
| Secretary | Lindsay Carrington | secretary@uptonjfc.org |
| Treasurer | Vanessa Warburton |   |
| Club Welfare Officer | Kerry Barker-Williams | uptonjfcwelfare@gmail.com |
| Resources Manager | Fiona Whitfield |   |
| Chartered Standard Officer | Sue Terry |   |