The U9 Xmas Party is at Wealstone Lane Pavilion on 9 December after training/matches @11.15am
Training – The team trains on Thursdays on the all weather pitch at Upton High School from 7-8pm. The last session before Christmas is 14 December and we start again on 11 January 2018. No training on 22 February due to half term. Last session at the High School is 29 March 2018.
Saturday training will continue at Wealstone Lane 10-11am for as long as the pitches are playable. 
Matches – The team play in the Cheshire Girls Football League . The U9s Red Development League has now finished and a new division will be formed with matches on 25 November and 9 December. Matches will start again on 13 January 2018.
Sponsored by Manleys Solicitors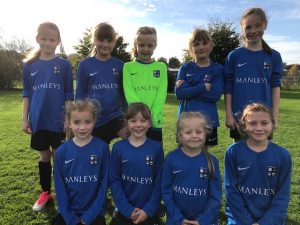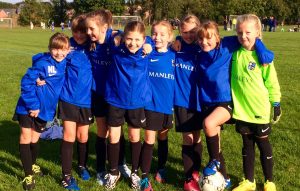 Fixtures will be published on the full-time site at U9s fixtures on full-time.
The girls attended a pre-season tournament at Hartford Sports Village on 8 July; they did really well, winning both their matches. Congratulations girls!