Training Update
Assuming pitches are playable, training is held on alternate Saturdays (when matches are not on) from 11-12pm at Wealstone Lane.
Midweek training is on Thursdays at Upton High School from 7-8pm. Post Code is CH2 1NN, enter via the first entrance and follow the road to the left. From 5 October to 14 December excluding 2 November for half term. 11 January to 29 March excluding 22 February for half term.
There will be NO training or matches on the 28 October & 4 November. Scott is arranging a mid week training session, details TBC.
Matches
The U11 girls have started their 2017/18 season very well, winning four of their first five matches.
There are 3 games on the 21 October at 9.30am, 10.15am and 11am. The next matches will be on the 18 November when the divisions are reformed to account for the performances in the first 8 games.
The team is playing in the Cheshire Girls Football League in the Weaver U11s Development League and their fixtures will be published on the full-time site at U11s fixtures on full-time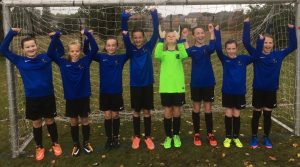 Anyone wanting to join us please contact Sue Terry – 07748 185423.
Preseason Festival
In June the U11's team played their first ever matches against teams from Frodsham, Waverton and Blacon in the Friendly Festival at Wealstone Lane. The team did really well, and has great potential.