Training –  Midweek winter training is on Thursdays at Upton High School on St James Avenue (not County Offices) from 7-8pm. Post Code is CH2 1NN, enter via the first entrance and follow the road to the left.
Dates: 5 October to 14 December excluding 2 November for half term. 11 January to 29 March 2018 excluding 22 February for half term.
Matches – The U11 girls are now playing in the Inter Division of the  Cheshire Girls Football League and their fixtures will be published on the full-time site at U11s fixtures on full-time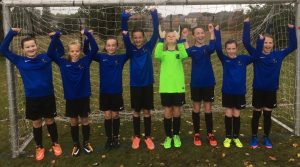 Anyone wanting to join us please contact Sue Terry – 07748 185423.
Preseason Festival
In June the U11's team played their first ever matches against teams from Frodsham, Waverton and Blacon in the Friendly Festival at Wealstone Lane. The team did really well, and has great potential.